Select Luxury Cars Qualification Process

What Does Our Seal of Qualification Mean For You?
When you see the Seal of Qualification on one of our vehicles, you should have the confidence that you are buying a high quality vehicle at a fantastic price. Learn about how our dealership does its homework to deliver the highest possible quality value for our customers!

Our 3 Step Process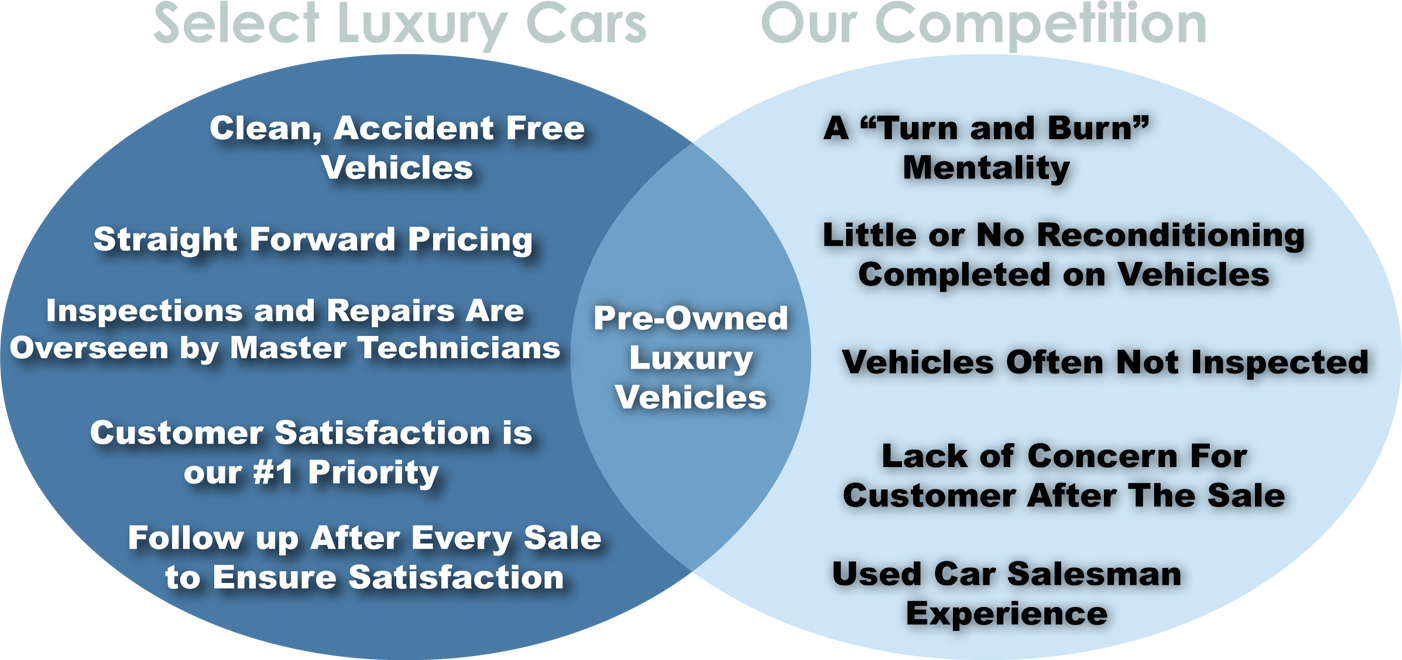 1. Selection
Select Luxury Cars only stocks a small percentage of the vehicles that we appraise. While we appraise several hundred vehicles every month, only about 10-15% of those are considered worthy of qualification. We hold ourselves to a high quality standard, no compromises allowed. The bottom line is we believe by selling a higher quality vehicle, we will earn your business again and again!

Dealer Relationships
The majority of our inventory comes from high quality partner dealers nationwide. We search out what you, the customer, will want, buy it right, and ship it to our store from their locations. Often, these are like-new vehicles that customers elect to trade in for a different make or newer year. Additionally, many of our customers trade their vehicles in to us when they are ready for their next vehicle.Through these and other sourcing strategies, we are able to find higher quality inventory than much of our competition. We can also measure the market, nation wide, to determine if a vehicle is "hot" or "not" before determining whether or not to stock the vehicle. Using our market based strategy, we determine a fair and highly competitive price for each and every vehicle before it even arrives to our sales department.
We strive to stock only the finest inventory with the following characteristics:
-Carfax 1 Owner (on most vehicles)
-Vehicles with late model year and low mileage (on most vehicles)
-Vehicles under manufacturer's factory warranty (on most vehicles)
-Clean vehicles free of major accidents or any structural damage (on ALL Vehicles)
2. Inspection
112 Point Inspections
Once a vehicle is delivered to our dealership, it doesnt necessarily mean it will end up sold to a customer of ours. Before selling any vehicle, we put it through a rigorous inspection (up to 112 points) overseen by a factory trained Master Technician. We wholesale many vehicles that do not meet our inspection standards, or send them back where they came from.
Click Here for a Copy of Our 112 Point Inspection Report
Select Luxury Service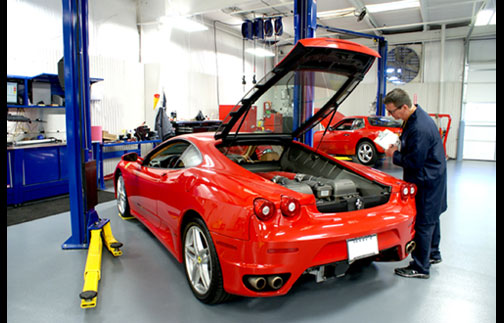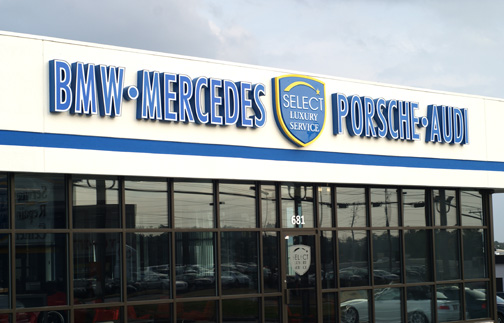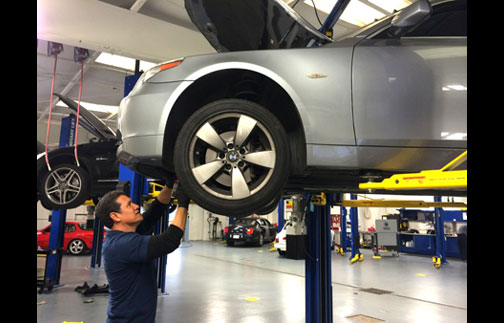 All inspections are done at our sister company, Select Luxury Service and are overseen by Manufacturer Certified Master Technicians. At Select Luxury Service, we use sophisticated scanning equipment to check your vehicle for hidden or pending fault codes, check all the hoses and seals, and we even put the vehicle up on the lift to make sure there are no hidden (hard to see) problems! Our Master Technicians have decades of experience under their tool belts. Combined with our state of the art equipment, our Masters are exactly the people you want inspecting your vehicle before you purchase.
Accidents and CarFax
You can be confident that none of the vehicles we sell have had structural damages (qualified or not). We will gladly share any information we have about your future vehicle with you at any time. If the rare case arises that a car was in a fender bender but still meets our mechanical, cosmetic, and performance standards, we clearly denote on the listing if/where we found paint work. Rest assured that Select vehicles are only of the highest quality. Additionally, we typically have information on the vehicles service history, where it was driven, etc. Just ask a professional at Select Luxury Cars and we will gladly help answer any questions you may have!

3. Qualification
Once our Master Technicians determine your car is deserving of our qualification, we list it on our website! The overall quality of our cars and your overall customer experience is paramount to our core principles. We feel this three step process is the best way we can make sure our cars are fit to become part of your family!

Pricing
We use sophisticated pricing technology to ensure all of our vehicles are priced to sell. We don't subscribe to the "old school" reactive mindset of putting a vehicle out for sale, marking it up X percentage, and waiting for it to sell. Instead we monitor the market on each car. Weekly, we inspect availability, options, colors, etc, currently available in the market and make changes to our prices to remain competitive. Don't be surprised if a vehicle you are looking at changes in price based on current market conditions! Every time you come to our website, you can be sure you're looking at a great price, from your very first look.